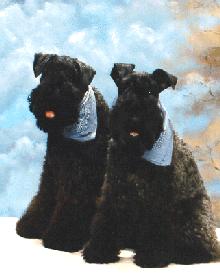 Kerry Blue Terrier
Kerry Blue Terrier
Kerry Blue Terrier pictures ➜

Origin: Ireland
General Conformation and Character: The typical Kerry Blue Terrier should be upstanding, well knit, and well proportioned, showing a well developed muscular body with definite Terrier style and character throughout.
Weight: The most desirable weight for a fully developed dog is from 33 lbs. to 40 lbs. (15 to 18 kg), and a fully developed bitch should weight proportionately less.
Height: Ideal height 18-19 1/2 inches (45.5 to 49.5 cm) for a dog; 17 1/2-19 inches (44.5 to 48 cm) for a bitch.
Coat: Soft, plentiful and wavy.
Colour: Blue of any shade with or without black points. Black is permissible only up to the age of 18 months, as is also a shade of tan.
Head: Strong and well balanced, showing plenty of hair with a slight stop; the foreface should be of medium length; jaw to be strong and muscular; nose, black; nostrils, large and wide; teeth, level, large and white; gums and roof of mouth, dark; ears, thin and not large, carried in front or close to the sides of the head. Dogs should be stronger in head and more muscular than bitches.
Eyes: Dark or dark hazel, medium in size and well placed.
Neck: Well proportioned: well set on shoulders and moderately long.
Shoulders and Front: Shoulders fine, sloping to the body, and well knit. Chest to be deep and of moderate width.
Legs: Straight in front, bone good, feet compact, pads strong and rounded, toe nails black.
Back: Medium length, level and not long over loins.
Ribs: Well sprung.
Thighs: Muscular, well developed, strong hocks, hind legs well set under dog.
Tail: Thin, well placed and carried erect and gaily.
Objectionable Features
Coat: Hard, wire or bristle coat.
Head: Flesh-coloured gums; teeth undershot are objectionable, but when teeth are only slightly over they are not to be regarded as a blemish.
Eyes: Yellow or gooseberry eyes.
Legs: Protruding elbows; white or bone-coloured toe nails; dew claws on hind legs, or marks of their removal.
Back: Roach back or hollow back.
Colour: Any colour other than blue with the exceptions stated above.
Action: Close, cow hocked, or stilted hind action.
Dogs whose heads or tails are held up by exhibitors or handlers should be penalised.
---
Photos and pictures of Kerry Blue Terrier: